The Stock Market Game (SMG)
Back to all opportunities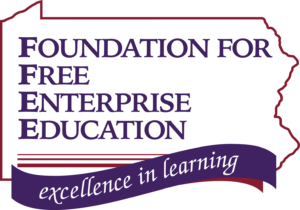 Industries
About The Company
The Foundation for Free Enterprise Education (FFEE) exists to provide young Pennsylvanians relevant, impactful education and skills that help them explore, create and sustain successful careers and lives that ultimately strengthen our communities and state. Founded in 1979, FFEE operates three dynamic youth education programs, Pennsylvania Free Enterprise Week (PFEW), The Stock Market Game (SMG) and the Speaker Series that prepare Pennsylvania's youth for the challenges and opportunities of the 21st century workforce.
PFEW is an award-winning program that teaches high school students the inner workings of modern business and the American free enterprise system. PFEW opens students' eyes to great careers and helps them develop job-ready skills that prepare them for success. PFEW typically serves over 1,600 students each year, and in 2023, this award-winning program graduated its 50,000th student.
The Stock Market Game is an in-class program for students in grades 4-12. Students form teams, research stocks, bonds, mutual funds, and other securities, invest an imaginary $100,000 in real time, and make trades as they compete against other teams for the highest return on their initial investment. Through the game, students learn about investing, the stock market, financial literacy and develop skills that will lead them to successful financial futures. SMG served over 9,500 students in 2023.
The Speaker Series is an online library of video resources geared toward career exploration, motivation, and skills development. The videos focus on the education and skills required for success in various fields, workforce preparedness, inspiration, mentorship and personal development. Also included are digital resources that help students with resume writing, interviewing, workplace etiquette and job readiness. The Speaker Series serves thousands of middle and high school students each year.
For more information on FFEE or to learn more about our program, please visit our website at www.pfew.org.
Opportunity Overview
The Stock Market Game (SMG) is an online simulation of the global capital markets that engages students in the world of investing and personal finance and prepares them for financially independent futures. Students are challenged to develop a successful portfolio by investing a virtual $100,000. They work in teams of two to five to investigate and gather data on potential investments. They then buy and sell real world stocks, bonds and mutual funds via an online platform. Teams compete in their age group and region for highest return on their investment as they learn about the capital markets and analyze and manage the risks associated with economic and political events.
SMG maps to national state educational standards, meets the College and Career Readiness anchors, and reinforces STEM concepts and practices.
The online Teacher Support Center provides educators with accessible, easy to use lessons to engage students and contextualize the math, language arts, social students and economics you're already teaching. Training webinars and in-person teacher workshops are also available. *Act 48 hours included.
For more information about SMG or to register, visit https://www.pfew.org/stock-market-game.
Register or Login to your account to apply today
Account Registration
We are excited to have you join Inspire Lancaster. Please make a selection below to register.